Make Your Business Internet + Cloud VoIP Resilient
Welcome to Gabbit's reliable and state of the art VoIP service. We're glad that you're thinking about making the switch to VoIP. Communication has never been easier in conjunction with your current internet service and…
[NETWORK ERROR. NO INTERNET CONNECTION].
Your internet is down again?
That humming of your business productivity has just become the uncomfortable silence of dropped calls and incomplete orders. Internet outages cost time and money and can seriously damage the reputation of your business. Businesses today operate with the latest and greatest technology including enterprise applications, cloud storage and telecommunications that all have one thing in common- Internet connectivity. Businesses have historically chosen internet service providers based on speed and price. Now, internet reliability is the most important factor in deciding who should provide your business internet.
Gabbit is proud to offer an alternative to your current ISP that brings your business to the next level. Offered only in conjunction with your Gabbit VoIP phone service, we can now provide all of your Internet service needs.
Changing your internet is easy.
On the same day we install your new VoIP phones, our expert team of technicians can make the transition to our circuits. We will leave your current ISP in place until your entire business is up and running with our service, making seamless transition a breeze.
No need to have separate bills for your communication needs. Just pay one bill to Gabbit for your VoIP phone service and Internet. It is easy and quick.
Our Internet service is reliable and fast.
Speeds are as fast as available in a given area by the underlying provider technology in place (coax, DSL, fiber, 4G). With two circuits it is extremely unlikely our Internet will experience an outage. Since its inception, many of our current Internet customers have had zero down time. *
* It is important to note that past performance is not a guarantee of future results, but our service has had a great start. Remember, static IP addresses are required, as that is how we manage the circuit and onsite Gabbit equipment.
You've come to appreciate the excellent reputation of Gabbit's VoIP capabilities,
and now you can expect the same from our Internet services.
We have pioneered VoIP technology with amazing value, numerous features, easy deployment and reliable solutions. Contact one of our communication professional's today to find out exactly what Gabbit has to offer your business. You won't regret it. Call Gabbit at 855-542-2248 or email us at sales@gabbit.com.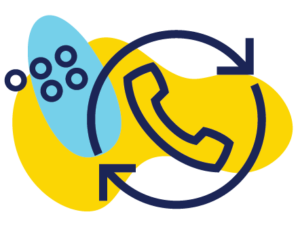 We must be on to something because businesses are switching to Gabbit every day.
Discover the difference Gabbit can make to your business.
Questions? Call 855-542-2248